World of Coke capitalizes on Atlanta snowfall, Films live action polar bear commercial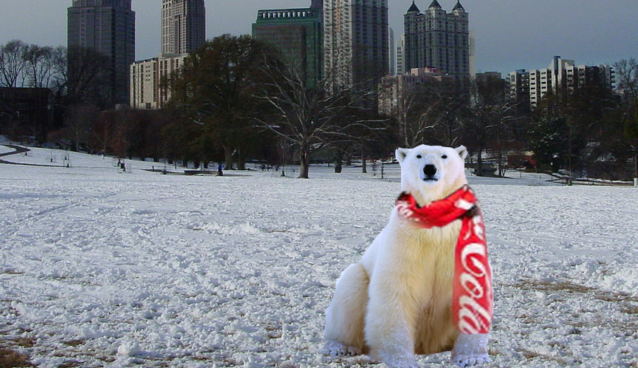 As the snow blanketed the metro Atlanta area, executives from the Coca-Cola Company scrambled to quickly write, edit, and record a new commercial featuring their iconic scarf-wearing polar bear. Unlike the usual commercials with snow, this one will be live action, filmed right here in Atlanta and starring an actual polar bear. So, while the rest of the area hunkers down at home with blankets, Bibles, and bongs, the company oppositely takes advantage of the cold weather.
In the past, Coca-Cola has advertised using CGI polar bears on a CGI arctic landscape. This has been a point of tension among Coca-Cola customers. Matthew Dickson, an Atlanta native and proud Coca-Cola supporter, expresses this conflict, "I love Coca-Cola. Everything it touches is sugary gold… except those CGI polar bears. They just feel inauthentic, like they are totally ignorant to the global warming that plagues them. I need to see the true suffering in their eyes if I'm to support Coca-Cola."
Mariah Lakes, another proud Atlanta resident, elaborates, "For a brand that has been so honest about the chemicals they put into their drinks, this CGI deceit really hurts. I'll take Orthophosphoric Acid over computer effects any day."
Executives at the company hope a live-action commercial will resolve this tension. Kelly Kendrick, the project manager of the commercial production, explains, "This commercial will have love. It will have family. It will have that feeling when your hand awkwardly brushes against someone's butt. If that isn't authentic, then I don't know what is."
Rumors are spreading around the World of Coke, saying this plan has been in place for at least a year. The entire process, though, would only be able to commence when the forecast indicated snow, which in Atlanta is very rare. Consequently, the executives have been doing all that they could to get the forecast they needed. Some reports say they did multiple "Rain Dances" in a freezer. Others say they tried reaching out to the writers of "Cloudy with a Chance of Meatballs" to see if they could borrow the device featured in the movie. Furthermore, some informants even reported that company executives have been sacrificing a Pepsi consumer every full moon as a gift to Mother Nature, hoping she'll reciprocate with a winter blizzard.
As soon as the news came of the storm, the last body was sacrificed and talent-scouting agents were immediately sent to the arctic to find the lead polar bear in the commercial. Chosen for his "large build" and "highly-diabetic condition," agents believed the target audience would be able to connect with the ursine star. He now is getting prepped in downtown Atlanta at the World of Coke.
We got to sit down with the star polar bear for a brief interview. He said nothing because he is a bear, but he was sporting a bold yet sophisticated Coca-Cola scarf, with flashes of cherry red and cocaine white.
The commercial is expected to air on Superbowl Sunday if the Coca-Cola Company can deal with PETA before then.