Stacks Janitor Has Seen Some Shit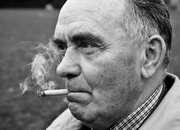 Stacks janitor George Sherman has seen some shit, George Sherman revealed to Spoke reporters this weekend. According to Mr. Sherman, the revelation that he has indeed seen his share of shit came to him after he was attacked last semester by a sleep-deprived junior who thought PCP was a study drug. Tired of hiding the stress of his job, Mr. Sherman is making his story public and his memoir, Ain't That Some Shit, will be available in the Emory bookstore this march.
"You live seventy years on this planet, thirty of them around college kids, and you think you've seen some shit," George told reporters as he paused to light a cigarette, "But when you've ventured into the lawless cesspit that is the Stacks, when you've cleaned a rug stained with every bodily fluid, when you've injected adrenaline into a student who OD'd on Adderall during Finals Week, then you've really seen some shit".
When asked why he's never quit his job, Mr. Sherman told us he has come close to handing in his letter of resignation many times, but that he always remembered one thing that prevented him from following through.
"At the end of the day, balancing books on passed-out students is just plain hilarious," Sherman reflected.
When asked what his take-away has been from his extensive experience at Emory Mr. Sherman had one thing to say,  "If we made ass-wiping economics a required course for students, I would probably be doing half the work I do now."