Wheel Editorialist, Kappa Sig Brother Responds to the Haters (AUDIO)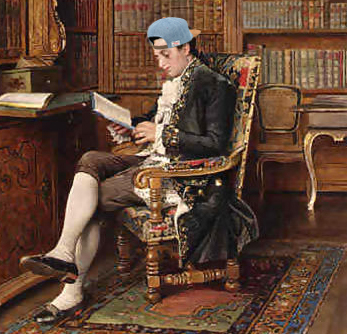 In reference to this wonderful editorial (first edition).
Transcript:
Oh! I didn't see you there! I was just finishing reading the last of Kappa Sigma's first edition leatherbound Tolstoy collection. Anna Karenina never gets old,  when in its native Russian, of course.
My name is Rupert Kensington Bradley, heir to the Duke of Uppityshire of Massachusetts. However, if you are of my blue-blooded Kappa Sig ilk, you may call me by my casual nickname, Sir Rupert Bradley, heir to the Duke of Uppityshire.
I've recently received word from Kappa Sigma's cup-bearer that the unwashed masses of Emory's campus have become hysterical over my recent editorial concerning the Greek Physique Competition, an Emory tradition as old and as fabled as John Emory himself. Miscreants are circulating words like "pompous" and "condescending" inside the taverns and inns of Emory in a blatant attempt to sully my good name.
These scoundrels have pointed to a particular line in the editorial, a line that I shall now read aloud. Quoth myself: "I pride myself on the fact that my fraternity is the exception to these generalizations."
In a just society of good and civil men, one cannot be condemned for illuminating the truths of the world. Verily, a Kappa Sigma Man is of superior stature in the realms of body, mind, and virtue. We are a society of enlightened landed gentry, noble to the highest of degrees. I may go so far as to say that our hearts are as pure as that which beats in a cherub's bosom.
I penned the editorial in question because the greater men of the Kappa Sigma Fraternity were shocked and appalled at the boisterousness that we witnessed at the once honorable "Greek Physique." We of Kappa Sigma hold ourselves to as high a standard as befits our stature as men of superior intellectual and moral class.
Naturally, we found this conduct objectionable, nay, completely impermissible according to how fraternal brothers should behave. Why, we were so possessed with righteous indignation that our four course banquet on that particular evening was cut short to but three courses ( this occasion proved all too sombre for our usual foie gras and caviar).
Indeed, 'twas a calamity of the most astounding magnitude, as you can imagine.
While I am delighted to bring the masses a treatise on the fraternal life, as a busy Kappa Sigma man, I'm afraid I must retire to my chambers in the proud castle of the Kappa Sigma fraternity.
Adieu.