Oxford College Really Was Student's First Choice, Okay?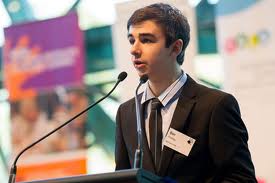 After multiple accusations that he turned to Oxford College after being waitlisted at Emory University, freshman Eric Schulman confirmed that the OC was, in fact, his first choice.
"Oxford really provides me with the experience I was looking for. I'm not close to the city. Why would I want to be able to see the Atlanta skyline when I can have a Walmart 10 minutes away from me instead?" he said in a press conference.
"I hate cities, too. Learning and living in the middle of nowhere really suits my needs."
Schulman, a Boston native, is majoring in nothing because he's pursuing an Associates Degree.
In regards to academics, Schulman said, "We have smaller class sizes and more accessibility to professors who are willing to get to know us. All you guys have are TAs up there. Sucks to suck."
Although reporters had no additional questions, Mr. Schulman seemed anxious to impress the media with the benefits of Oxford. Schulman shouted nonsense for an additional 20 minutes while simultaneously typing an Emory Secret about how much he loves Oxford. He was adamant about learning real-life skills at Oxford like "how to be a leader," "efficiently spreading gossip like you're still in high school," and "taking care of stray cats."