Wagner Hosts Def Comedy Jam Event on "Compromise Controversy"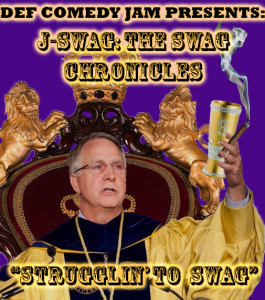 After several ineffective forums on his controversial support of the 3/5ths Compromise in Emory Magazine, James Wagner took a more "student-friendly" approach on Friday that he believes "finally diffused the whole situation". Performing a stand-up set for HBO's Def Comedy Jam using the stage name "J-Swag", Emory's president addressed the issue of race in American society in a way "the kids could get down to".
"In retrospect, I should have known all along that students don't want to hear their president giving a sincere apology for his appalling mistake," Wagner said after the show,  "they want to hear him calling it as he sees it in a night of abrasive comedy".
After a hype-man called on the audience to "give it up for the  J-J-J-Swaaaaaag!", President Wagner strode to the microphone and wasted no time addressing the issue of race and the community's reaction to his Emory Magazine article.
"White students get offended like this," Wagner said, feigning surprise as he effeminately covered his mouth with his hands, "but black students get offended like this" Wagner stated in a sassier tone as he put one hand on his hip and with the other snapped in the form of the letter "z".
"But seriously, who's drinkin' tonight?" Wagner shouted over the packed crowd's uproarious laughter. He then proceeded to tell a story about getting pulled over by the police only to have them realize he was an affluent white male, finishing with his signature catchphrase, "That ain't swag, that's J-Swag!"
Afterward the president told students and faculty that another forum "won't be necessary" because "I killed it out there".
DVDs of the set titled J-Swag: The Swag Chronicles will soon be available in the Emory Bookstore.