Spoke Exclusive: Starbucks to Move into Everybody's Location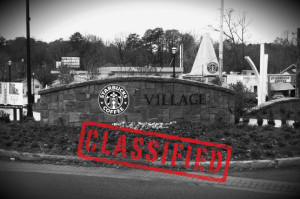 In the aftermath of Thursday's announcement that the Emory Village mainstay, Everybody's Pizza, would be closing, documents emerged indicating that the restaurant would be replaced by yet another Starbucks.
These documents, obtained by The Spoke from an unnamed barista, reveal that Starbucks has coveted the location for years. The location, the documents say, would let Starbucks tap into the coveted market on the other side of the Supercuts, an area long deprived of Cinnamon Dolce Frappuccino's.
According to the documents, for the past year, Starbucks business analysts had attempted to brainstorm a solution for potential customers who would suddenly develop a craving for Marble Pound Cake but would be more than fifteen feet from the nearest location. This new location, they concluded, would be the answer.
The reasons behind Everybody's sudden sale remains a mystery. An Everybody's employee, who requested to remain unnamed for her own protection, revealed that Starbucks had forced the owner to sell the property with Grande threats of caffeinated violence.
"One night, as he was walking back to his car, several masked hooligans clad in green aprons doused him with a burning-hot liquid," she said. "He said it was frothed skim milk."
"They told him that he had better sell the place or they would grind him up like they do fair trade, organic coffee beans," she continued.
The documents indicate that Starbucks has larger plans for Emory Village, an area which the documents refer to as "Starbucks Village." By 2020, the documents state, Starbucks plans to have control over the entire village. The water in the newly installed Emory Village fountain will be replaced with Iced Vanilla Latte.
Still, the loss of Everybody's will be felt by the student body.
"I can't believe they're gone," said Quenton Smith, a college junior from Michigan, as tears streamed down his face. "Now, if I have a sudden craving for overpriced and disappointing pizza, I'll have to go across the street to Romeo's."