How to Make Your Sexiled Roommate Feel Special This Valentine's Day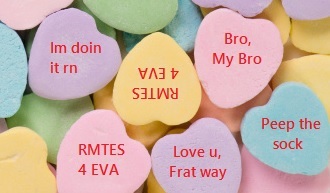 Valentine's Day is a magical, sexual, and sugary day dedicated to romantic partners and the celebration of love—emotionally, financially, and especially physically. Sadly, other important people in your lives are too often forgotten: roommates. As couples blissfully fornicate, these sad cohabitants are left to spend the day outside of their rooms. Thankfully, the Spoke is here to provide you with some ways to make your roommate feel special while sexiled this Valentine's Day.
Share your Valentine's Day gifts with your roommate
Valentine's Day is filled with gifts, and not all of them can be home runs. Give your roommate the ones you don't like, like the coconut chocolates in an assorted chocolate box–after you eat the good ones, of course. Alternatively, give your roommate that flower that lost most of its petals and would be an eyesore if left in the bouquet. Your roommate will likely get nothing else this Valentine's Day, so any gift, even secondhand, will be appreciated.
Tie a personally-chosen sock to the door handle during the sexile
Nothing breaks a roommate's heart like reaching for the door's handle and having his hand greeted with a dull white gym sock whose smell then knocks him unconscious. Take the time to show your roommate you care by specifically choosing a sock special for this moment—one that communicates more than the obvious "I'm having sex in here, so go be lonely somewhere else."
Zach Chasserly, a junior with a very sexually-active roommate, said it really means a lot when he sees a new sock on the door handle. "I feel like I am valued as a roommate when I see a sock chosen from the heart. Just yesterday, there was a light blue sock with bananas on it, for the time when we saw that one egotistical dipshit from chemistry class slip on a banana peel… Or maybe it was just meant to be a lot of penises. Either way, it meant something to me." Want to go above and beyond? Wrap a silk tie around the door handle. This is the ultimate demonstration of roommate fellowship.
Text emoji updates to your roommate while having sex
Texting updates about what is happening behind the closed door is a simple gesture that lets your roommate feel included, or at least not forgotten. It also lets your roommate know that progress is being made and, therefore, your roommate's time outside of the room is not being wasted. Jonathan Piper agrees with this idea, "I like knowing that my sacrifice for a brother-at-arms is being put to good use." After saying this, Jonathan's phone buzzed with a text alert. He nodded approvingly as he saw the well-known "eggplant and tidal wave" emoji combination flash across his phone screen.
Wash your roommate's sheets along with your own
Whether you want to impress your significant other with a clean set of sheets or you already hooked up in a way that involved chocolate sauce and whipped cream, you will likely be washing your sheets on Valentine's Day. Ask your roommate if he would like his sheets washed as well. Your roommate may decline because he would rather not mix his pillow covers with your sticky throw blanket that shrouded your naked body mere hours before, but with such offers it is the thought that counts. If he accepts the offer, follow-up by offering to make up your roommate's bed, because fitted sheets can be a bitch.
Most importantly…
If you do nothing else for your roommate this Valentine's Day, do this one thing: do not tell your roommate that you had sex where he is sitting now, and where he moves to next, and the place after that. If you follow these easy tips, your Valentine's Day will be special for you, your significant other, and your valued roommate.