Freshman Guy Pretty Sure Every Emory Secrets Crush Post About Him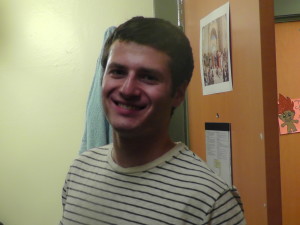 After spending months reading the Facebook page Emory Secrets, freshman Jonathan Knobloch is pretty much positive at this point every crush post is about him.
"When I first started reading the posts, I didn't think much about them," Jon told reporters outside his dorm room, "but then I noticed a pattern in the posts of dreamy eyes, a sparkling personality, and a shredded body, and I suddenly realized they were all about me."
Asked about what he would like to tell his countless admirers, Jon said even though he is "flattered by all the attention," he says "thanks, but no thanks."
As far as how this has affected his daily life, Jon told The Spoke, "I try not to think too much about it, I just go about my day like any normal, less attractive guy would." Although he admits he rarely goes to the gym now, and often sits in the back of his classes in a hoodie and large sunglasses to avoid further ogling from his secret admirers.
Sarah Fieldman, a classmate in his American history class, claims they made eye contact once and after class he approached her and allegedly said "I saw what you wrote, but let's just keep this professional".
"What's Emory Secrets?" Sarah told The Spoke, as if she's never been on Emory Secrets before, "Is there honestly another bullshit anonymous Facebook thing?"
As of press time, the Emory Secrets posts have continued to grow about Jon, who refuses to go out tonight in fear of encountering the roaming mobs of women vying for his love.
HerCampus has yet to respond to Jon's emails asking why they've abstained from doing a "Campus Cutie" profile on the fastest rising sex icon on campus,  but Jon figures  that "they're probably worried the resulting amount of traffic would break the site" .