Emory Admissions Sends Unintended Copies of Air Bud: Golden Receiver to Non-Admitted Students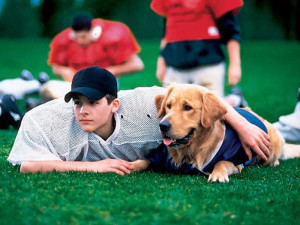 The Emory University Office of Admission admitted yesterday that it had accidentally sent out 400 copies of the film, Air Bud: Golden Receiver, to non-admitted students. Students eagerly waiting for an acceptance letter received a large envelope emblazoned with the Emory logo and containing a DVD of Disney's smash-hit family comedy.
"When I first saw the envelope, I couldn't contain my happiness," said Lisa Pizzi, a high school senior from Saddle Brook, New Jersey. "But then, instead of an acceptance letter, I found a copy of my favorite canine sports comedy."
"Emory sure knows how to treat its applicants well," she continued.
Among the applicants who received the 1998 box-office hit, reactions ranged from delight to amusement to spiraling depression. Several applicants were hit hard by the fact that the film was the last of the illustrious Air Bud series to feature the original Air Bud.
The Office of Admission sent out a letter apologizing for the accident and pledged that they would take the steps necessary to make sure it would never happen again.
The apology email read: "On behalf of Emory University, we would like to apologize for inadvertently sending out 400 copies of the film, Air Bud: Golden Receiver. An office intern accidentally placed the DVDs into envelopes marked for President James Wagner's elaborate, handwritten rejection letters."
In the following paragraphs, the Office of Admissions attempted to explain the existence of the DVDs: "Last week, the administration held a celebration for the six-month anniversary of the department restructuring announcement and we imbibed a significant quantity of Dom Pérignon champagne – or, at least, whatever was left when we were done spraying it around the Lullwater mansion. Our allocation of school funds may have been affected as a result."
"Ultimately, the blame rests on Amazon and their one-click online ordering," the letter concluded.
Update: The Spoke was able to obtain one of the original rejection letters.
Dear Student,
I regret to inform you that you were not accepted into Emory University.
Still, I thank you for assisting us in our efforts to boost our US News ranking. Your hopeless application has helped to reduce our admission rate.
Regards,
President James. W. Wagner